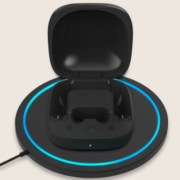 Best Sport TWS Earbuds Pop-up Window Wireless charging function Three true power
Best tws for sports 300mAh charging case, Pick up auto connect, Ergonomic design
Best Sport TWS Earbuds
Wireless charging, automatic pairing, three true power
The sweat-resistant pairing is solid and delivers powerful, balanced audio with dynamic
Rain and noise isolation for the ultimate listening experience
Support wireless charging
Built-in wireless chip, no cable required, sensitive, fast, efficient and stable, LED light indicator
Magnetic charging case
After placing the headset back into the charging case, the internal magnetic design allows the
headset to easily attach to the charging case and charge.
Minimal Pairing Connection Guide
Binaural pairing for the first time
1. 2 headsets on automatically when the lid is flipped over.
2. Refresh the phone bluetooth device, pair b10, auto pairing
3. Put the earbuds back into the charging box and the red light is on, then it will be disconnected automatically, and if the earplugs are taken out, the        white light will be on, then it will automatically reconnect.
Specifications: